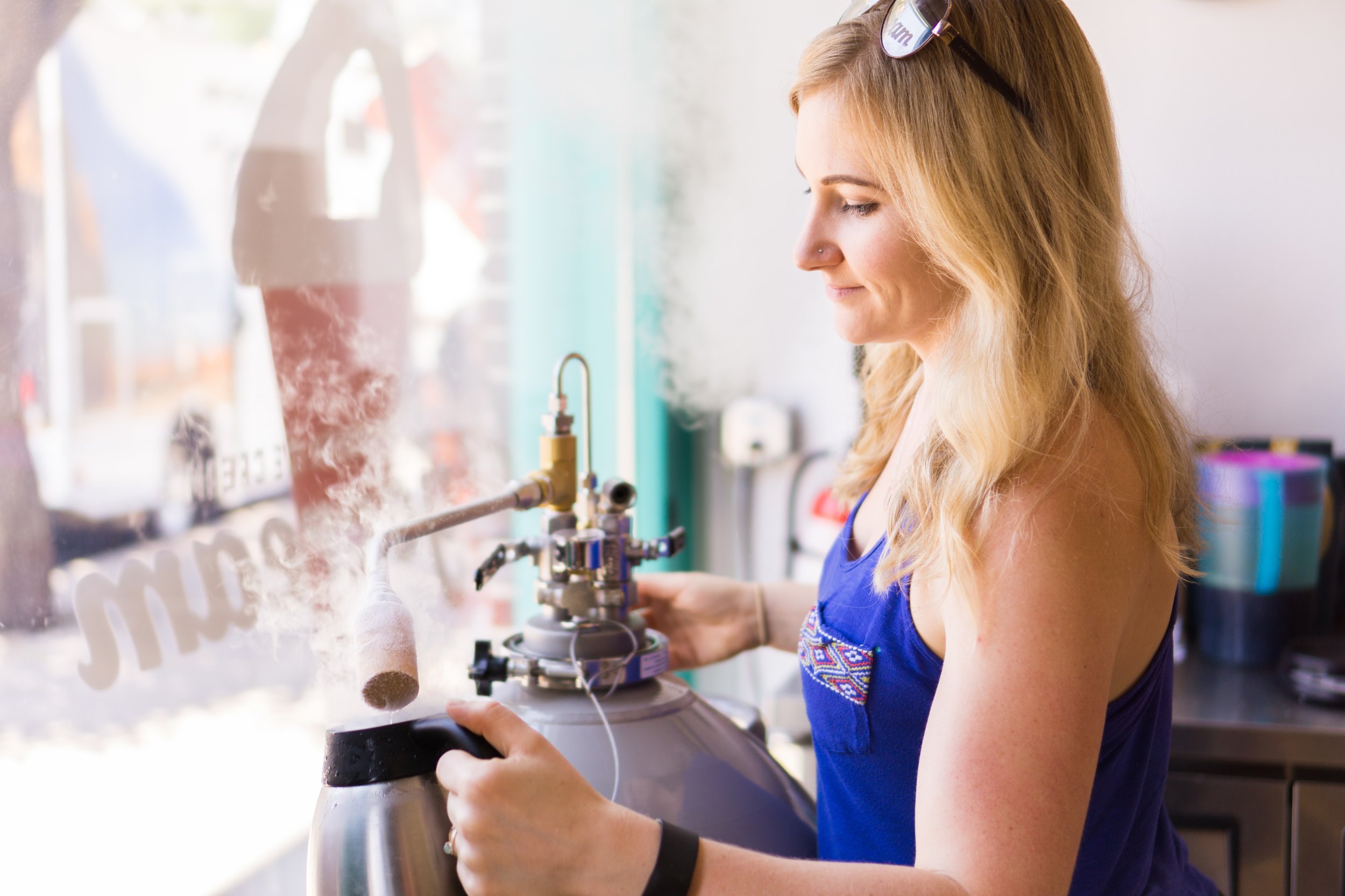 Johnsons Go West Coffee Documentary
On June 23rd 2017, we set out on a road trip across The United States to not only see our beautiful country, but to prove that people are more united than a heated 2016 political season would make it seem.
This barista, at Bluff City Coffee, on Beale Street in Memphis Tennessee served up an iced Americano. "Its a weird place. A lot of old history and industry that made the city what it is today, but it never relied on anything more than Elvis and MLKJ. Its been decades since we people were really talking, changing."
Coffee in Amarillo, Texas was the most unique. My barista, a coffee "student" made me a Cold-Fashioned. Aromatic bitters, cold brew coffee and a round ice cube of cold brew, topped with an Italian cherry. "Process is everything. What's the joy in instantly having rewards in life?"
Cymantha Lynn of Flagstaff Arizona, at Firecreek Coffee. "People don't realize that Flagstaff is a cool town. I've only been to the Grand Canyon once. The desert is pretty cool in general. Canyon or no Canyon."
Kingman Arizona, Route 66. "If you're going to take a picture of me, at least take a picture of both of us. People should know there's coffee out in Kingman."
Renee Shaul drinks coffee and reads the paper with her husband at their favorite coffee shop in Saratoga, California. Renee lives in one of the most expensive areas in Silicon Valley, and drinks a small black coffee everyday. She never finishes the crosswords.
Sue's Gallery and Cafe, my first pour over coffee, Saratoga, California. "I only work here on the weekends. I collect sneakers."
Sue's Gallery and Cafe, Saratoga, California. Of the 4 days I was in Saratoga, this group met at this cafe for three of them.
Zion National Park, Utah, July 2017. Heat and sun are getting the best of us. Josiah, my husband, rarely ever takes his shirt off, even at the beach.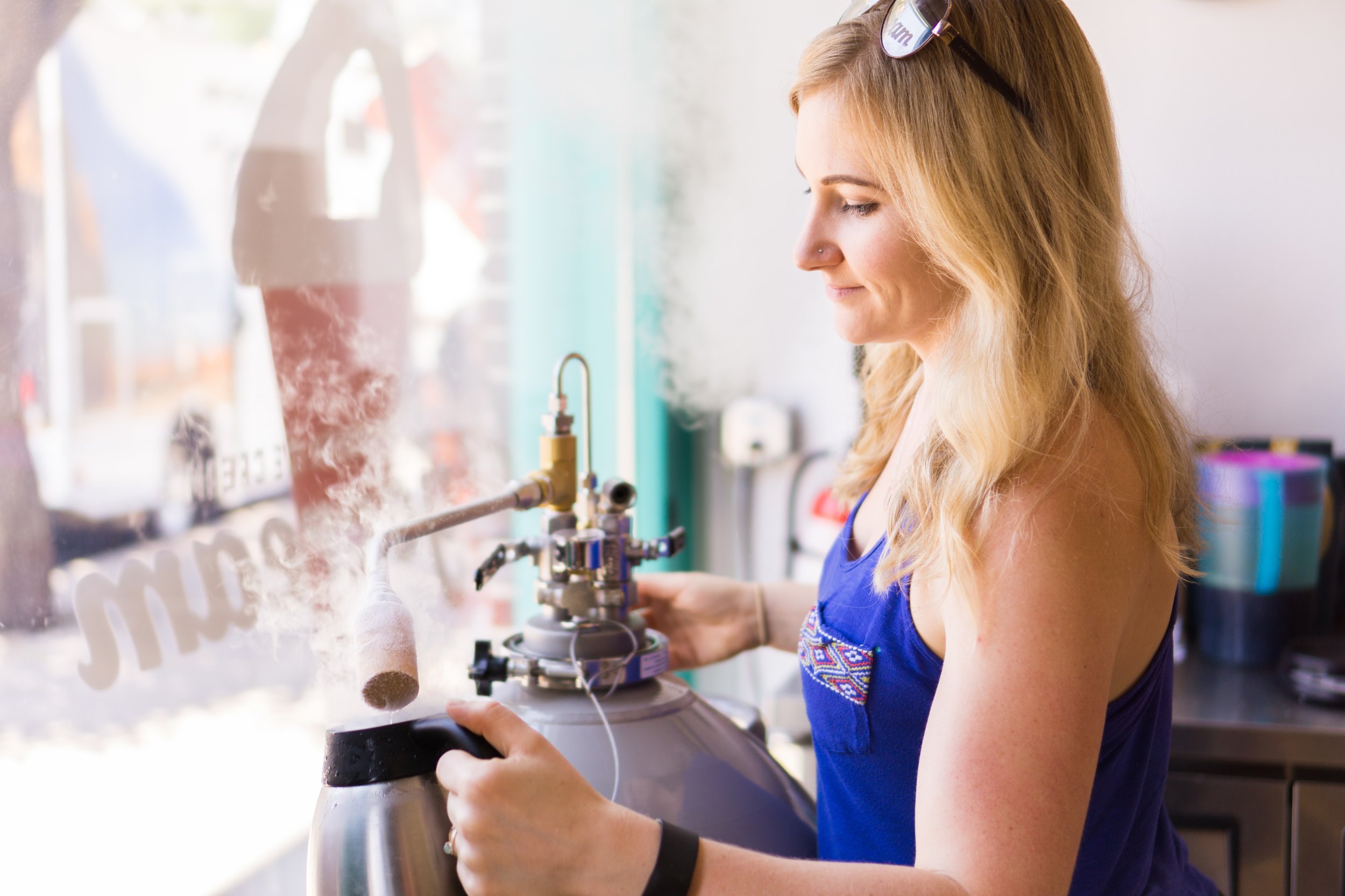 Moab Garage Co., in Moab, Utah, serves up the only Nitrogen Cold Brew drinks in the state. The "Nitrocinno" is their signature. "I love working here because they let me keep my dog in the back room. If there is another dog here, I like to let him out to play."
Horse-shoe Bend, near Page, Arizona. For large portions of the trip we were bumping into tours of asian tourists. The walk from the parking lot to the viewing area here is only 3/4 of a mile, but we passed handfuls of people sick of dehydration or just turning back. The groups that made it were well prepared, and more often than not, wearing coordinated outfits.
The Glen Canyon Recreation area is an anomaly. A giant lake in the middle of the desert, lined by mountainous canyons, tumbleweeds, and the occasional brush.
Stella works at Hubbard and Cravens in Indianapolis. "I hope your documentary goes well. I had a few projects going on before I started here. I work 2 jobs, so 3 can be overwhelming, especially if I'm not getting paid for it."